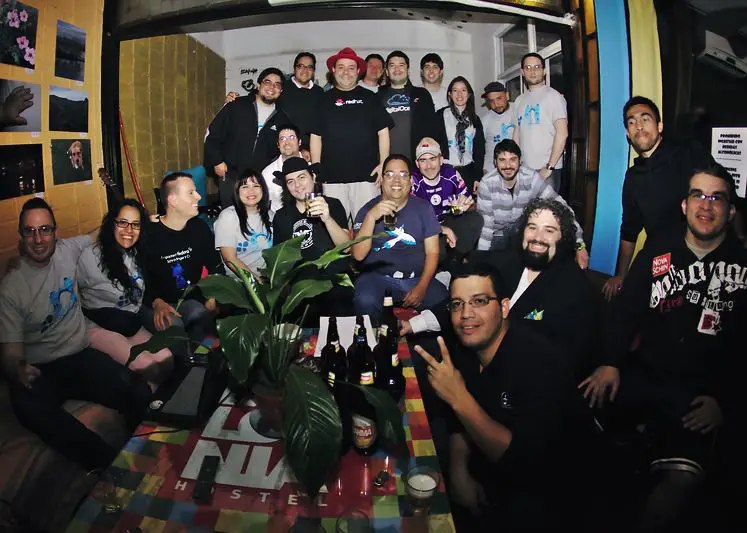 Few weeks ago was held the most relevant conference in LATAM for the Fedora Community, the Fudcon. This time at Córdoba, Argentina with the assistance of differents collaborators of the Fedora Project not only around LATAM but also from EMEA and NA. As every Fudcon, we covered extensive fields within the project such as virtualization, websites, electronic, infrastructure, QA, Selinux, documentación and so on.
Kicking off with deeper details, my contribution to this Fudcon unlike the last year it was a short talk about the several electronic tools that we actually have in the distribution to tinkering with electronics projects. For this, I have explained the use of some kinds of gEDA projects: Kicad which is a software to really work with complex printed circuit boards, Ktechlab to simulate analog and digital circuits, Icaro to learn about robotics and programming, Piklab as an alternative to work with PIC microcontrollers, Fritzing that it has become in of one the favorite software to create visual circuits design around the world, as well as GHDL and GTKWave the perfect duo to simulate HDL code. For those who attended and for those who didn't attend, do click here to get access to the slides used in my presentation.
Talking abouts electronics projects was not the only purpose of my speech, there is a big topic to stand out and it is about the state of Fedora Electronic Lab. It is clearly easy see that the actual labs sites don't offer any information related to what we knot as FEL and this is due in Fedora 22 we didn't release FEL. There have been a series of problems to get FEL ready for this release. As I'm an electronic engineering and I use Fedora in every project related to electronic, it is really fundamental keeping this lab alive and for that I will try to do my best to come back to life again FEL for the upcoming Fedora releases. To do that, I have commented this topic with some colaborators of the project to guide me in the right way. If everything goes right, then we could possible have again FEL and in that way keep extending the vast field of electronic using Fedora as the main core operative system.
On the other hand, one the talks what I was waiting for it was of Asterisk by Jared Smith. It comes that the last year at Nicaragua I didn't have the chance to attend it but fortunately I have attended this time. I was blooming away of the simple way that Jared explained the main functions of the SIP protocol, and how can we edit the sort kinds of config files in asterisk to create extensions, as well as others extras functionalities such are the voice mail.
This was the first Fudcon in LATAM at least, where we had the participation of a dron :D. Jared brought one able to record videos with high resolution, if you would like to see the how amazing was recording funny moments within the event, please take a time to watch the video that tatica made. Certainly, the dron was one of the most showy attractions during the event.
Leonardo Vaz and Wolnie Tomazelli gave us a sea of concepts that we need to bear in mind when we are working with tools such as SElinux and the differents tests that the QA group needs to do in every release. For me, were amazing talks, specially when you are part of another area inside the project, it is always welcome get to know about the differents tasks that others groups do.
It is relevant thank you to Robert Mayr who did the talk about Fedora Hubs, because it was outstanding. This was the second attendance of Robert at Fudcon and it is always a pleasure having him in because we learn a lot from him. Robert explained the aim and in which consists Fedora Hubs. The initiative of Fedora Hubs, with no doubt is gonna be a springboard to the integration of almost all the tools that actually Fedora use as a community project.
Neville Cross, colaborator from Nicaragua presented a talk about Icaro project where he explained his experience working with this wonderful project 100% created with Fedora and how can be used to help others to have a really understanding of robotics applied to academics areas. Following the same line, Valentin gave us a talk-workshop about 3D's printers which was really great. Valentin shared with the audience his experience realizing his 3D printers from scratch giving tips for those who wanted to build one.
Along the talks we had a little interview by the team of Cordoba 3.0, a technology program tv in Argentina where Tatica Leandro, Valentin Basel, and Neville Cross, exercised as community representatives explaining why we were doing the event and what is the philosophy of it. The videos are presented down below.
Last but not least, I really want to thank you to the Fedora community for allow me keep recording so many great, funny, happy and unerasable moments along with great folks that share the same feeling of share, develop and keep doing the best effort to make Fedora as it is: a robust, unique and genuine operative system of all the sense. I would like to thanks too to the organizers of this years: Valentin Basel, Matias Maceira and of course, to Laura Fontanesi who really dedicated part of their time to make this event a dream come true to many. Finally, thanks to Red Hat for sponsor the flight ticket and allow me to learn and enjoy of this unique and magnificent event on his own category.
Here I present some photos showing what happened in the FUDcon. Some of the pictures have been taken by Tatica, so a huge mega credit to her that knows how to capture those special moments.